Selenite Lamp 30-35cm high
00100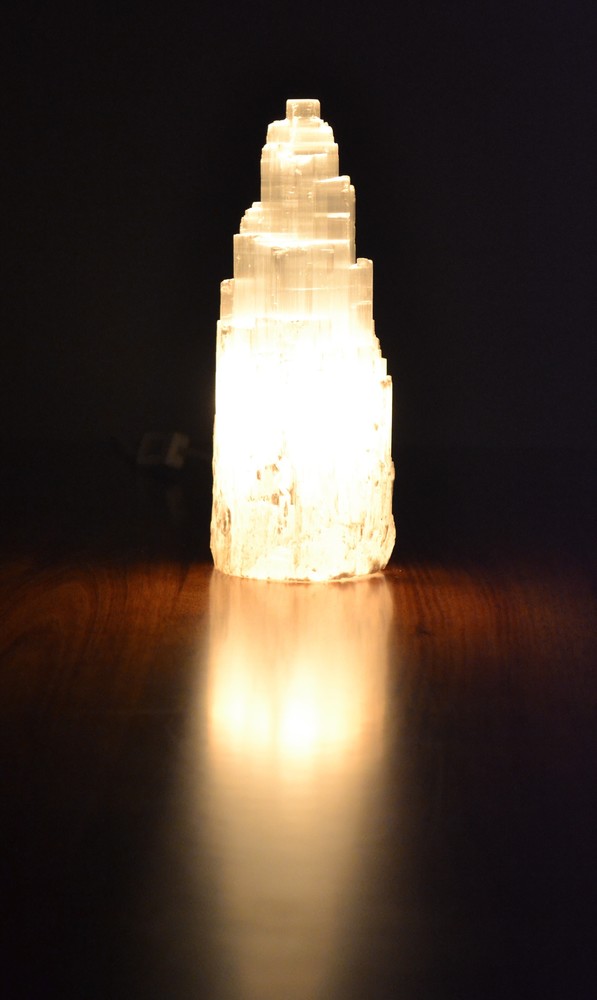 Selenite is a beautiful stone, a form of gypsum crystal. The name Selenite comes from the Greek word "Selene", meaning moon (it refers to the crystal's pearl-like appearance that reflects a soft, moon-like glow). Before the use of glass, Selenite was often used in windows, and may still exist in some buildings today, e.g. the Basilica of Santa Sabina at the Aventine, Rome.
Shaped in the form of a mountain or tower our beautiful Selenite Crystal Lamps come from ancient sea beds in Morocco.
"Psychologically, Selenite assists judgment and insight. Mentally, it clears confusion and aids in seeing the deeper picture. It brings about a conscious understanding of what has been occurring at the subconscious level. This is a powerful disperser and stabiliser for erratic emotions."
It's the perfect addition to your desk or study area, as it's known to help with problem solving and improve concentration. Selenite is also a stone of powerful intuition and psychic awareness and is
known to remove energy blocks.


Our Selenite Lamps come with an Australian Approved cord and 7 or 15 watt clear incandescent globe. For a brighter, clear look to your selenite lamp, you may like to try out our LED globes and they can be ordered here, along with coloured globes.
Please note:
Selenite is a very soft crystal that can be scratched easily with a fingernail.
It will also dissolve in water so ensure it is kept away from water.
Small pieces of selenite may flake off so be careful when rubbing fingers over it as tiny pieces may splinter.
RRP: $99.00
Prices exclude gst & shipping.
*The Crystal Bible, Judy Hall, page 259
Add coloured globe
Red (2.5) Blue (2.5) Green (2.5)