Personal Energy Pendant Harmoniser - FREE Shipping
00009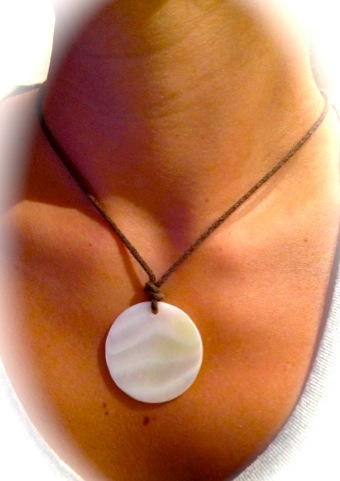 RRP: $45.00
Our beautiful Kabibe shell harmony pendant necklace is an energetic tool that creates a harmonizing field of negative energy around your body – it supports and balances your own magnetic field and aura.
Our beautiful shell pendant may protect from depleting positive energy influences created by our everyday environment, such as computers, TV's, household appliances and electrical equipment etc.

Our pendant is especially beneficial to people who are very sensitive to energy and may suffer from Electro-hypersensitivity (EHS), demonstrated by intuitive medical practitioners who consult with EHS sufferers on a daily basis. Our beautiful Kabibe shell pendant offers protection against noxious energies such as...
Electromagnetic Radiation
Radio Frequencies and Microwave
Earth Magnetic Radiation/Geopathic Stress
Psychic Energies
Digital TV
Compact Fluorescent Light Globes
Our beautiful shell pendant is energetically superior to other energetic pendants because it does not have a negative polarity and is programmed with SANIT (Stand Alone Negative Ion Technology). By wearing our Harmony wear, your energy levels may increase due to the supportive effect the pendant has on our vital organs (which are weakened by various EMF fields). 
Bio resonance and Kinesiology testing of hundreds of people has shown that the pendant may increase energy levels and well-being thus reducing stress levels.
Our beautiful harmony wear pendant may benefit by helping with ...
Strength Endurance Flexibility
Coordination
Intuition
Concentration levels
And helps to compensate for those low energy days.
Price excludes gst.