Fire Bowl
00146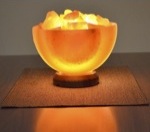 Height - approx 17 cm
Width - approx 19 cm
Ionic Radius - approx 3 metres
Ideal as a feature in your home, reception area, yoga studio, restaurant or a great gift for that special person
You feel warm, cosy and comfortable, just looking at these beautiful Himalayan Salt Fire Bowls!
Here is what Sue had to say about her fire bowl salt lamp:
I absolutely LOVE my firebowl lamp. I put it in my bedroom so I could fully assess its effectiveness and gosh, I noticed a difference within a day or two. I have asthma and with the blinds closed at night, the room would often smell a bit stuffy by morning and I'd be wheezy but the air is so much cleaner now, it's amazing! We also have pets in the home and I've been thrilled that the pet smell has dissipated as well.
Each Himalayan Salt lamp is unique. They are hand-chiselled to preserve their beautiful energy and maximize therapeutic benefits. Each Fire Bowl Salt Lamp is cradled on a beautiful wooden base and comes complete with an Australian Approved cord and globe.
Care guidelines are included.
As with any electrical item, please treat with care, use in a sensible manner and keep out of reach of children - salt lamps are heavy!
Read how our Rock Salt Lamps work, click here
Price excludes gst & freight.