2 - 3kg Rock Salt Lamp - Purchase 4, save > 20%
00017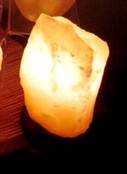 Our genuine Himalayan Rock Salt lamps have been hand carved, using salt extracted from the foothills of the Himalayan Mountains – imagine having a salt lamp in your home that was 'manufactured' by Mother Nature over 200,000 years ago! Each one is hand carved to preserve its ancient energy and, as every rock salt lamp is unique, they will vary in size, shape and colour, bringing it's own individual zest to your personal space.

Each salt lamp comes with an Australian approved cord, globe and care guidelines. Did you know that we make sure each component (i.e. globe, cord and salt lamp) is working as it should? We also give you a spare globe, at no charge. As with any electrical item, please treat with care, use in a sensible manner and keep out of reach of children - salt lamps are heavy!

Height: approx 18 cm
Ionic radius: approx 1.5 metres
Suitable for: bedroom (bedside table), entry foyer, meditation room, beside your computer, bookcase, kitchen, etc
Here's how a salt lamp worked for Heather:

I love my salt lamp already! Have a 16 month old daughter who has had a troublesome cough all winter - it has robbed us of much sleep. We put the lamp in her bedroom and it was the first night in months that we went to sleep without a struggle. Hoorah! In the daytime I'm keeping it in our living area so we can all benefit from its warm glow.


Read how our Rock Salt Lamps work, click here.

Please note our prices exclude gst & shipping.